Onpage Hero turns Google Analytics into an SEO suite. Today, we are looking at how to automatically find and monitor your number of internal and external links using the Number of Links Onpage Hero custom dimension.
Firstly, make sure you have the Number of Links dimension selected as part of your Onpage Hero plan. Free plans allow you to add up to 3 datapoints, whereas paid plans allow up to 20.
Upgrade today to access up to 20 datapoints
To check which datapoints you have access to, log in to your Onpage Hero account and click the little settings icon on the right. Now, select Change Datapoints to display your current setup.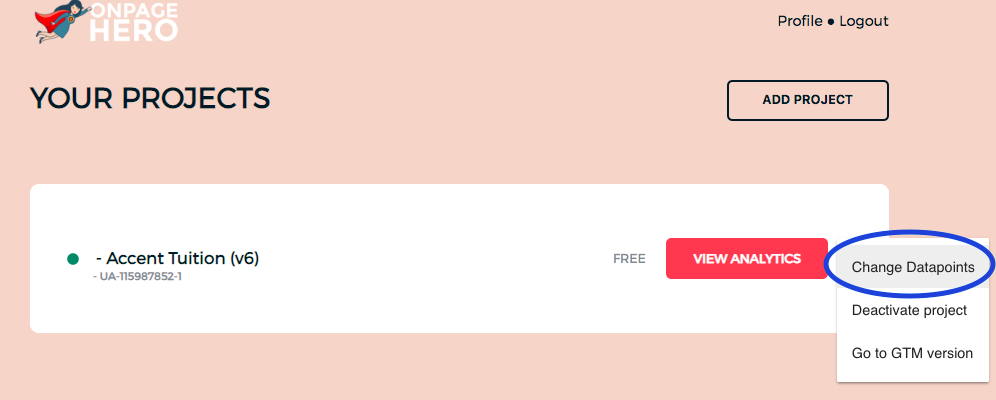 The options on the left show the datapoints applied to this property. Select the dimensions ´Number of Links, click NEXT, then VIEW ANALYTICS to jump into your Google Analytics property.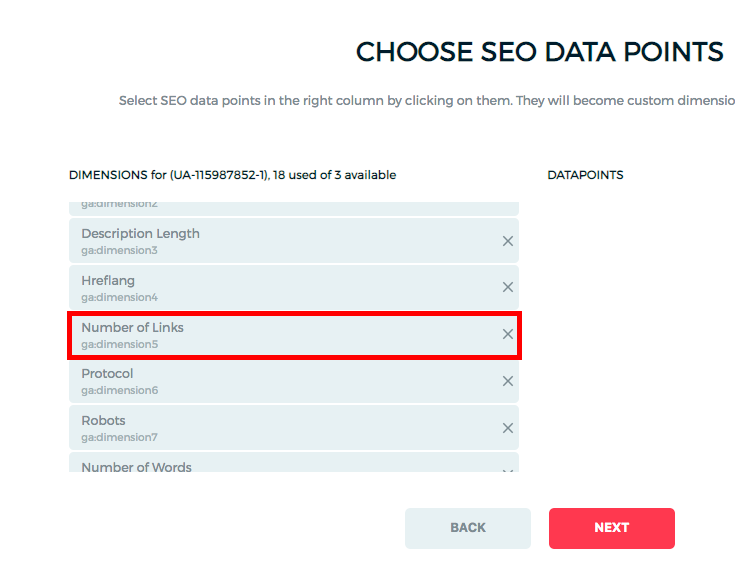 What are internal links?
Internal links are links from one page to another within your site. This could be a link from the homepage to a blog article, to a glossary entry or to a login page. Internal links reflect the structure of your site. In general, site structure should be like a pyramid, with the most important content at the top and least important at the bottom. Usually, cornerstone content includes the homepage, key product landing pages, or pillar blog content.
Why are internal links important?
Internal links are important because they are how your users navigate your website. Your site should be structured in such a way that users can always find the information they need quickly and at the right time. In addition, search engines crawl your website and assign important to pages depending on your link structure. This means that often pages like the homepage are given more importance than category pages.
Internal linking best practices
Make sure your internal links help the user find the correct information
Link to your most important content from your high traffic pages
Try to make your user's journey as efficient as possible
What are external links?
External links are links from a page on your site to another site. They take users from your domain to another. External links are used to provide important background information to blog posts or to link to partner websites.
Why are external links important?
External links do not directly benefit your website for SEO purposes. However, they do enable you to gain credibility with your users by linking to reliable sources to provide useful information. Over time if you link to other websites often, they may return the favour and link to your website, gaining you backlinks which do benefit your SEO.
External linking best practices
Only link to credible sources
Use external links to back up statistics or provide background information
Avoid traffic drain by keeping the number of external links to a reasonable amount
Monitoring internal and external links with Onpage Hero
To find these custom dimensions in Onpage Hero simply navigate to your default view within in your Google Analytics property.
Firstly, enter your Google Analytics property and navigate to:
Behaviour > Events > Top Events
Then, set Event Label as the primary dimension. This is your standard view for using Onpage Hero custom dimensions.
Not seeing any Onpage Hero data? Check that you have set up Onpage Hero correctly following this guide.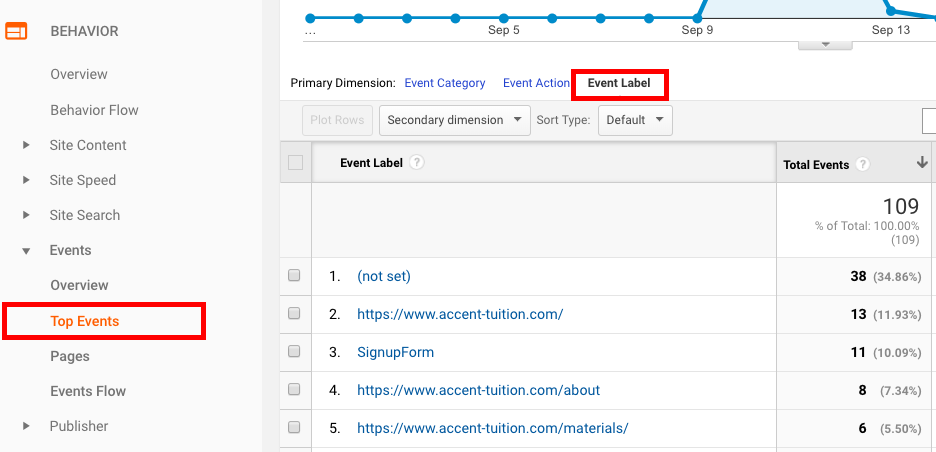 Ok, let's take a look at our page titles first. So type "number of links" as a secondary dimension to display the results.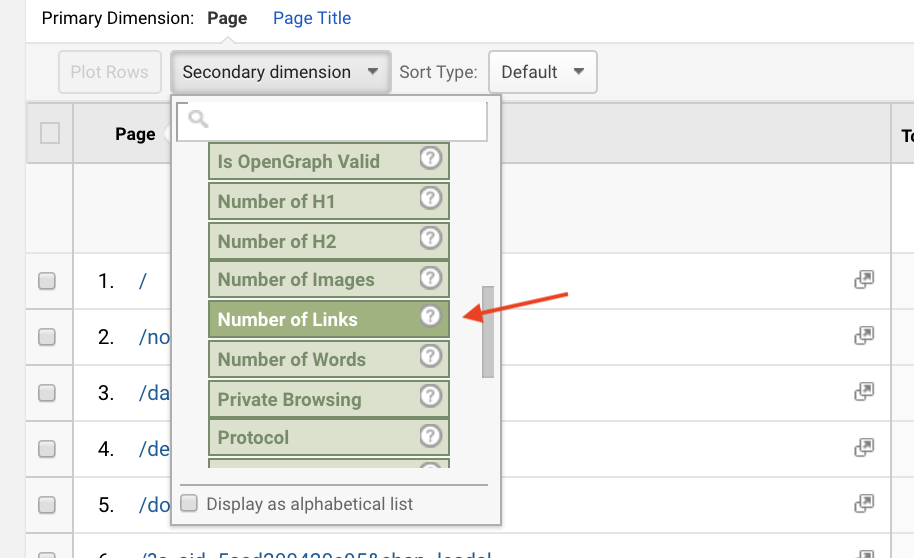 Onpage Hero will display two numbers for each page. These are the numbers of internal and external links.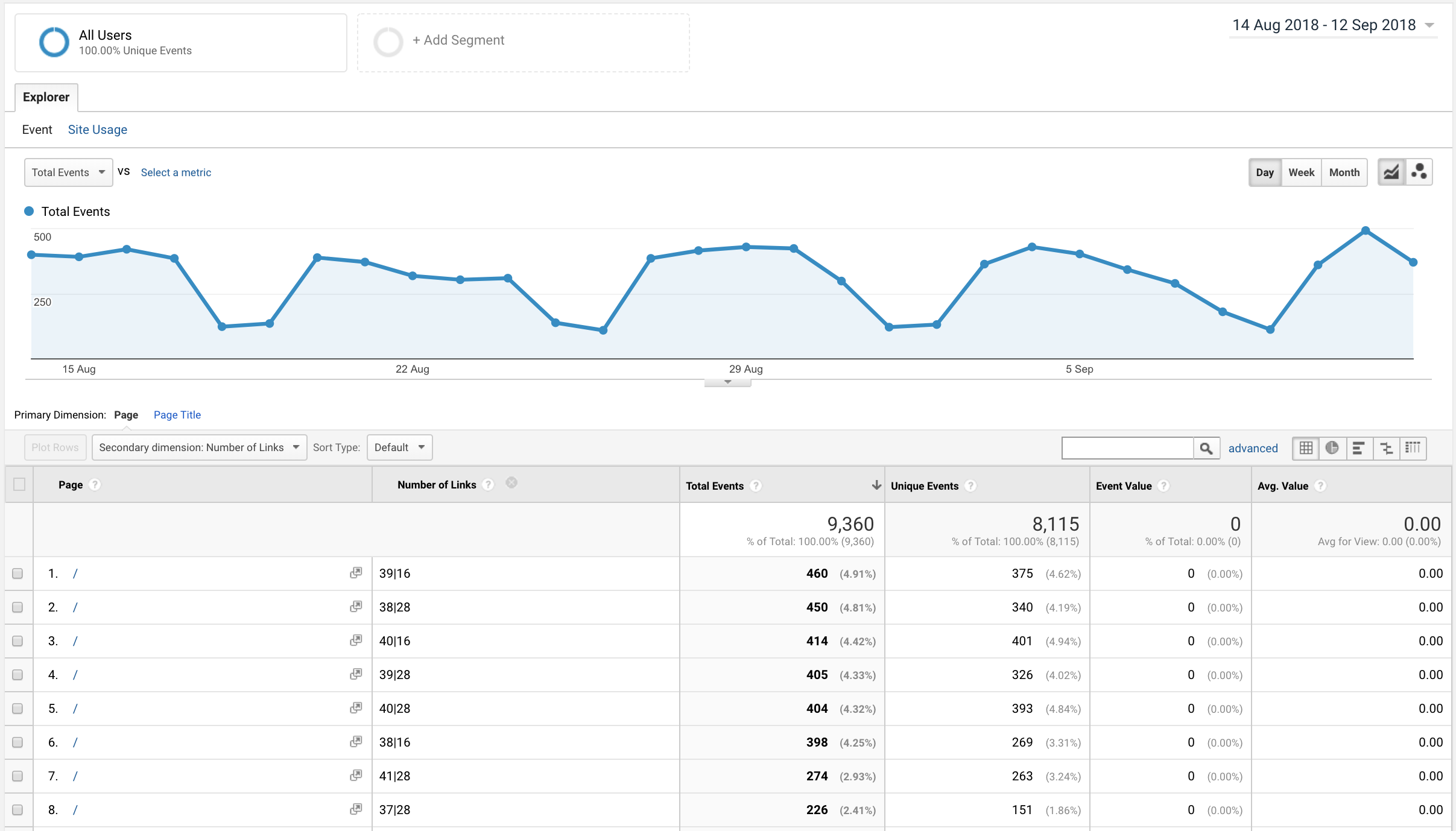 The number of the left is the number of internal links and the number on the right is the number of external links for a given URL.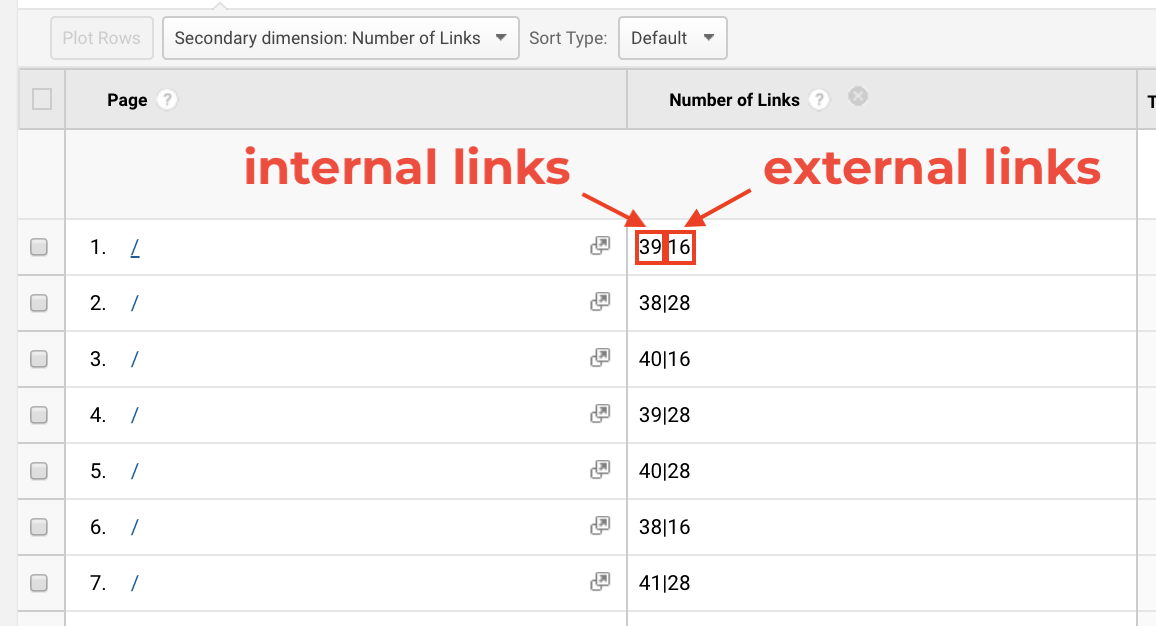 The results show us the two numbers in relation to each other. In general, you will want to have more internal links than external. Also, try to ensure you are always linking to the most important and relevant content on your site.
This metric can also be used to spot pages with very high numbers of external links. These pages may be draining traffic from your site. Reducing the number of external links helps keep both traffic and link equity on your site.
Key Takeaways: internal and external links
Use Number of Links to optimize your internal and external links.
Link to relevant content on your site from high traffic pages
Keep external links to a minimum
Upgrade today to access up to 20 datapoints
Further reading
Any issues or feedback? Let us know about your issues and product feedback via support@onpage-hero.com and we'll be happy to help you.